Displaying small products, such as delicate jewelry, pins, rings, earrings or necklaces is a real challenge. It might seem that there is nothing easier, because all the goods fit in a suitcase and it is enough to spread them on the table. However, these are usually very valuable products, requiring a well-thought-out setting that will enhance their subtle beauty. But how do you do this at a fair that is crowded with people? How to ensure your brand visibility if there are many other stands at the fair? Here are some ways to make your stand look like a professional minimalist boutique and stand out from the hustle and bustle of the fair.
Less is more!
You don't have to fill every inch of your stand with products. Minimalist display and spaces between products will allow customers to focus on a small product. Display only one item by type or size, hide the rest of your inventory in neat boxes on the back of the booth and replenish goods as needed.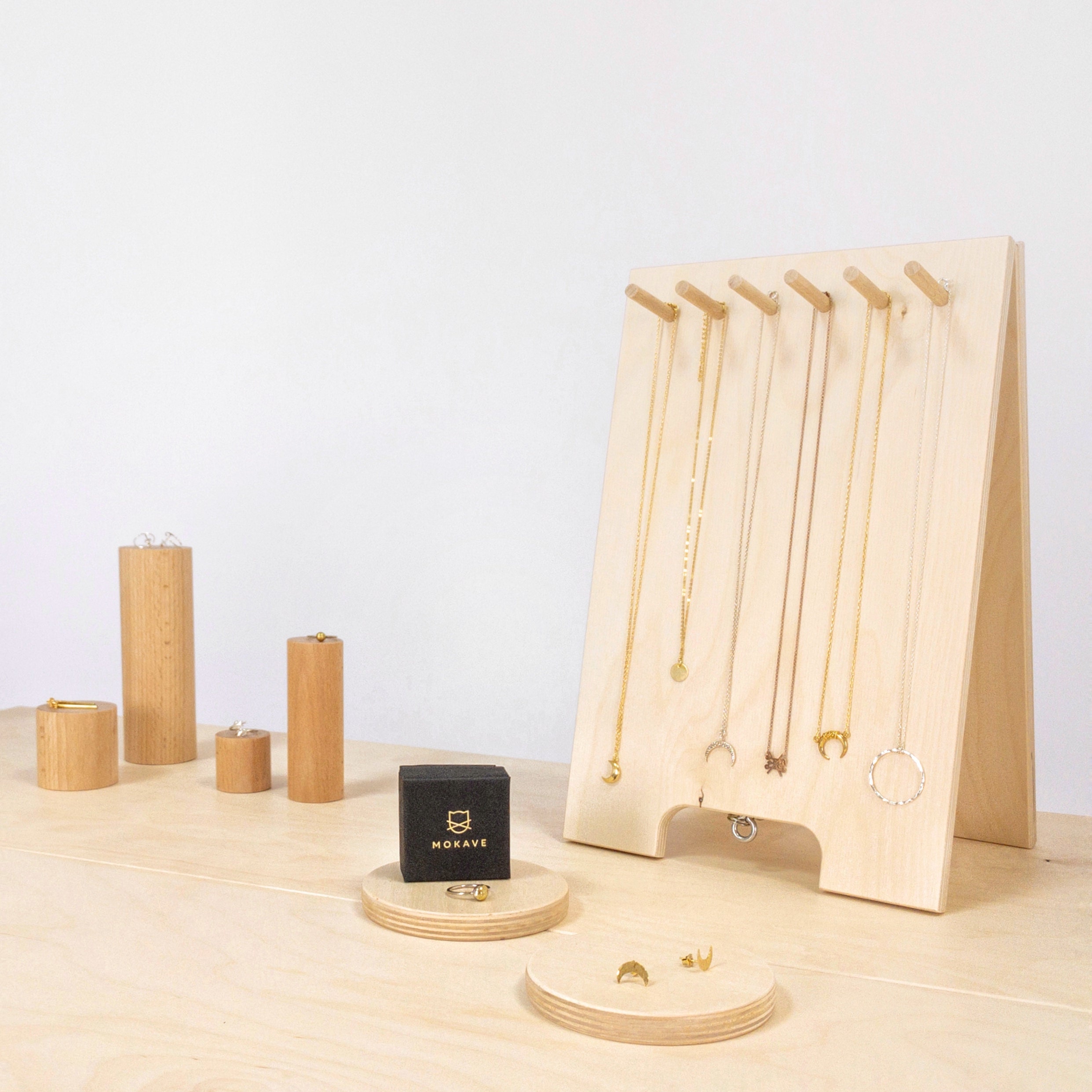 Look at your booth from the customer side.
Bring the products closer to the eyes of passing customers. Use a table or counter that has a top height of 90 cm (around 35"). Thanks to this, customers will not have to bend down to see and touch your products.
Maintain eye contact with the client. Do not sit at a table or counter in a low chair. Stand in front of the stand or behind the table top to be able to talk freely with passing customers and advise them on the choice. Sit on a bar stool to rest your legs, but keep your body straight at the same time.
Arrange the space of your stand not only horizontally but also vertically. Take care of cascading exposure. Place folding displays for necklaces, earrings and rings on the countertop. This way, your products will be in the line of sight of your customers walking down the aisles and will more easily attract them to your stand. The neutral background of the display stand will stand out from the surrounding chaos and allow customers to focus on your product.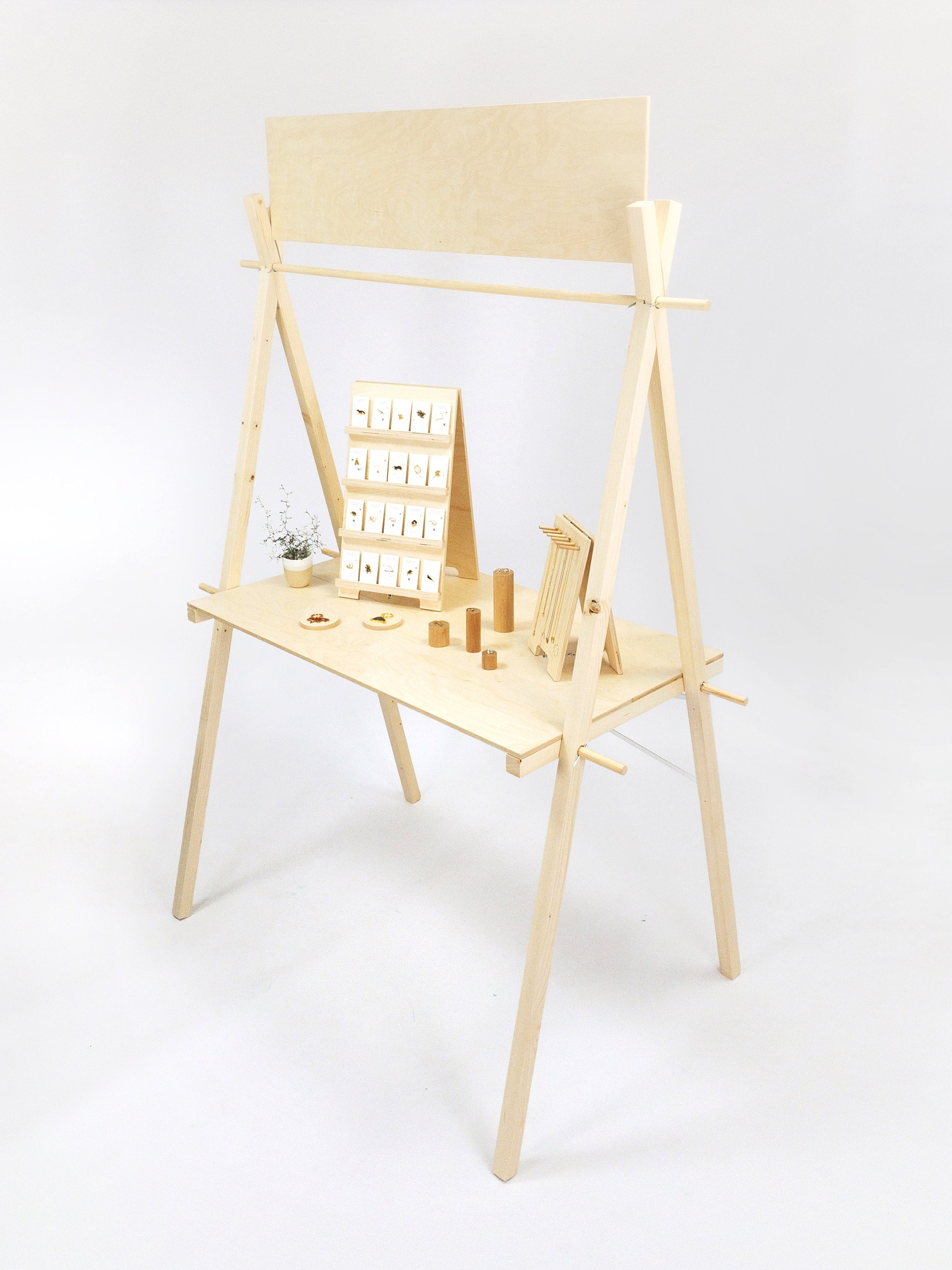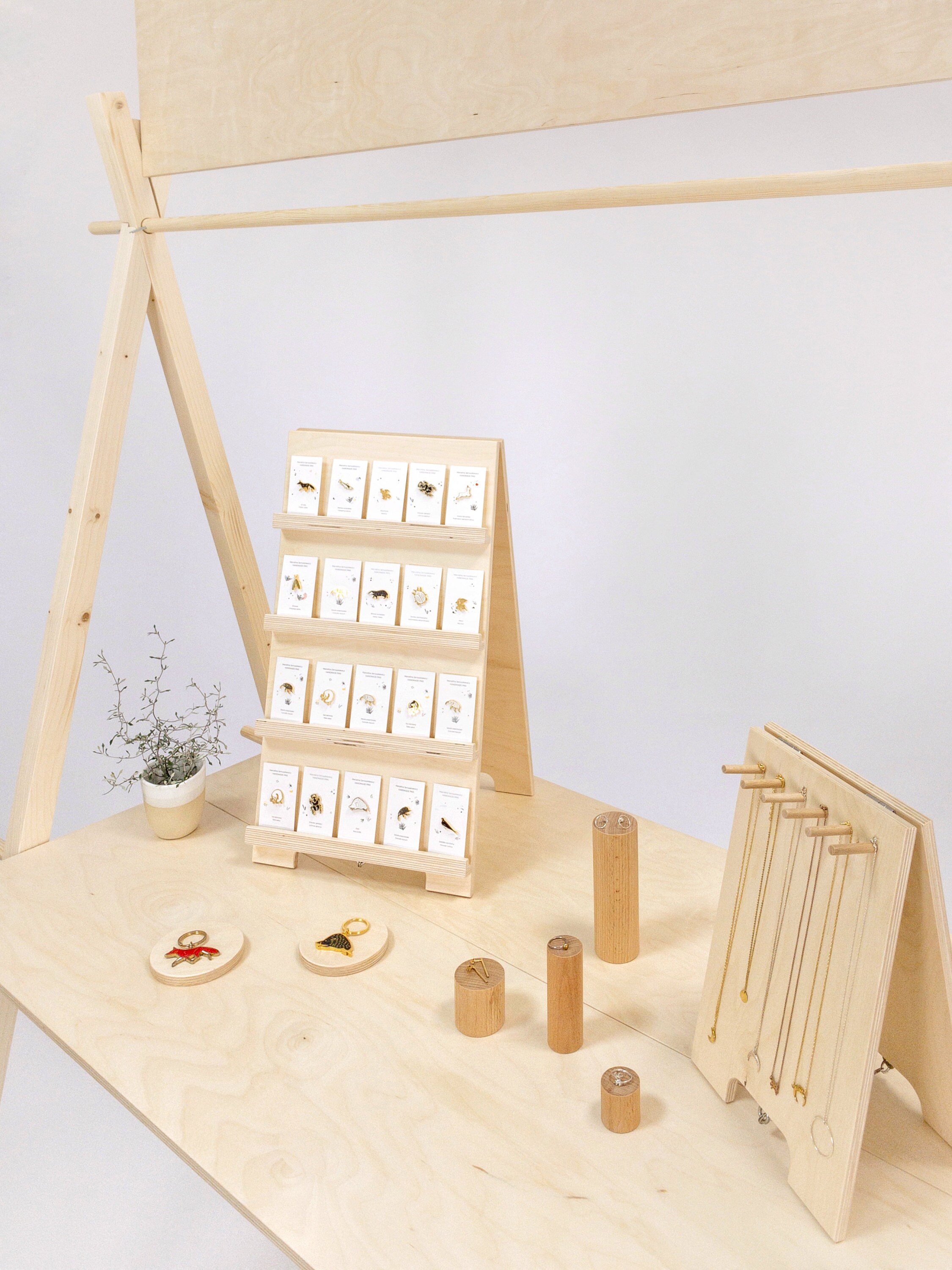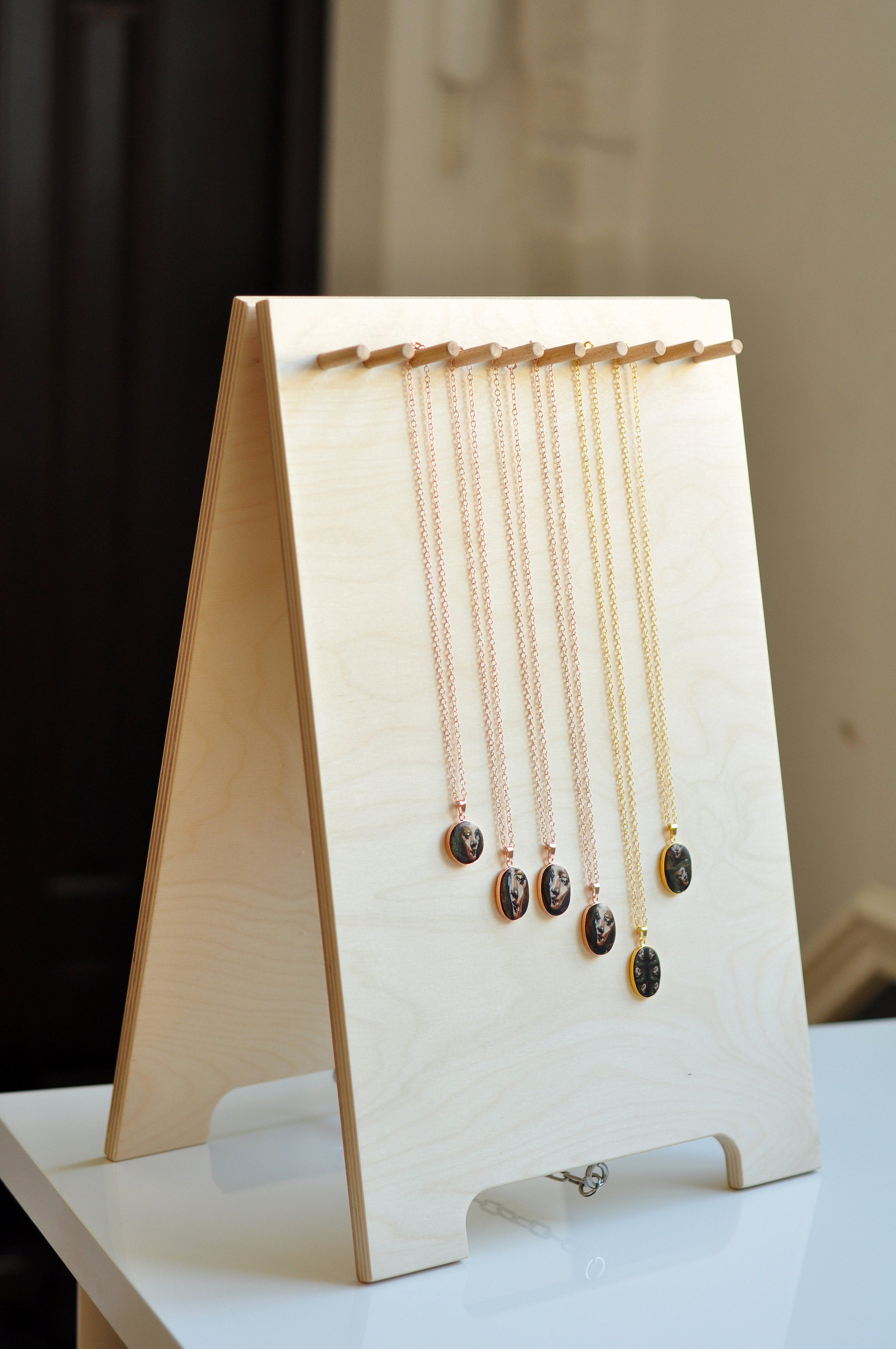 Photo and necklaces by @sacra_argilla
Stand out and be remembered.
Make sure that regular customers easily find their way to your stand. It is equally important that new customers remember your name and know how to find you after the fair. 

Place your brand logo in a visible place, preferably above the table (remember to use the stand space also vertically). 
Additionally, within the booth, you can put or hang a board with a price list or additional information about the brand, such as the website address or social media links. Sandwich board placed under or next to the table will be perfect for this role.
Place a small display on the table top for business cards or flyers.

If the fair organizer does not provide dedicated lighting, prepare it on your own. Jewelry looks best when it is well lit. Hang one or two lamps above the table top. Nothing improves visibility as well as light. And nothing looks as good in the light as a clean and transparent display table!
By hanging a mirror on the stand, you will make it easier for customers to choose products. For this purpose, a counter with a bar located above the top will be perfect.
Choose additional decorations that will emphasize the atmosphere of your brand. Green plants are perfect for this role, as they will gently add color to your stand, but will remain neutral. Avoid overly colored decorations that may distract from your products.
Here is an example of a Car MeRevelles ♥ JOIES stand, which beautifully implements the above-mentioned points!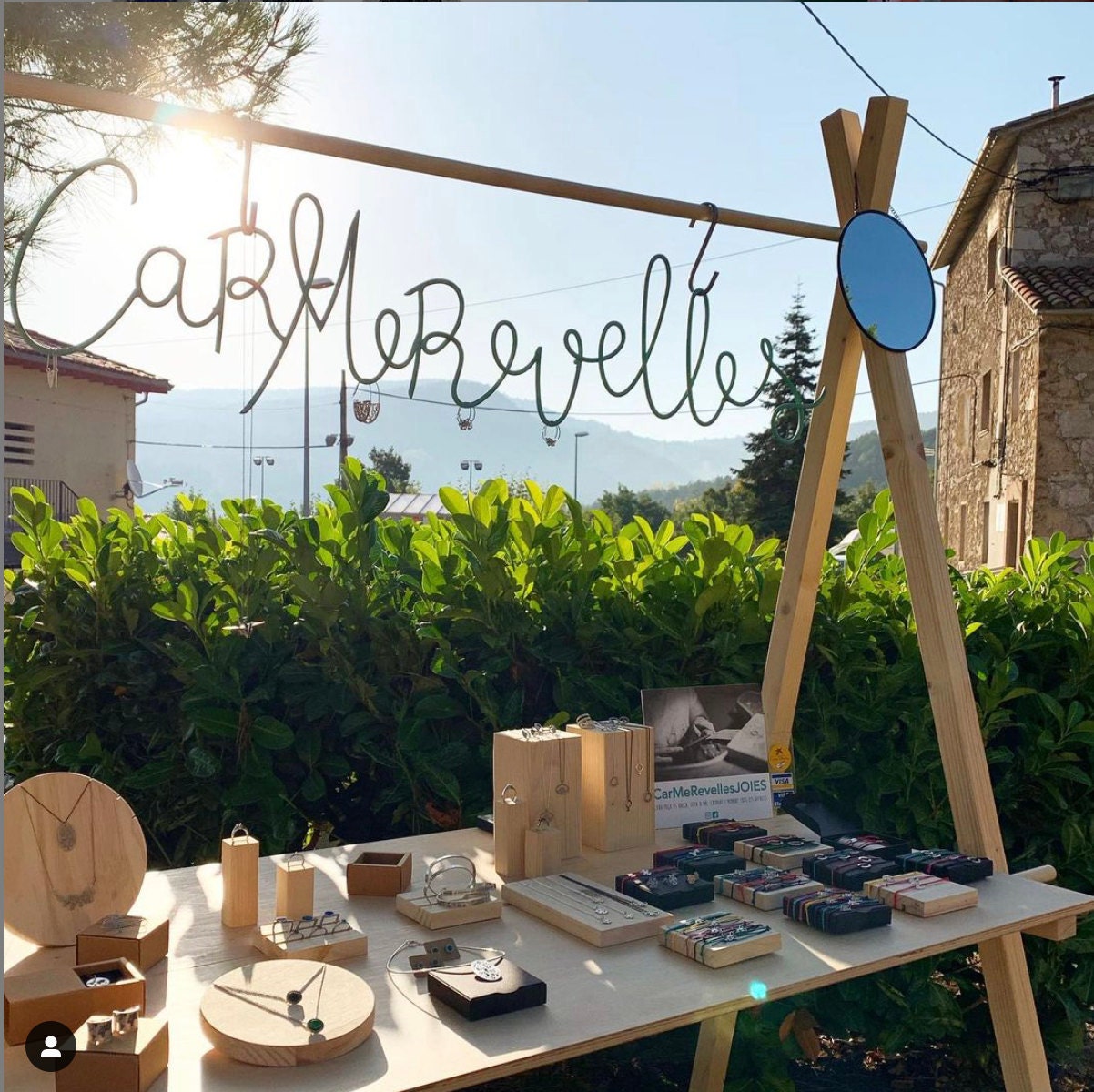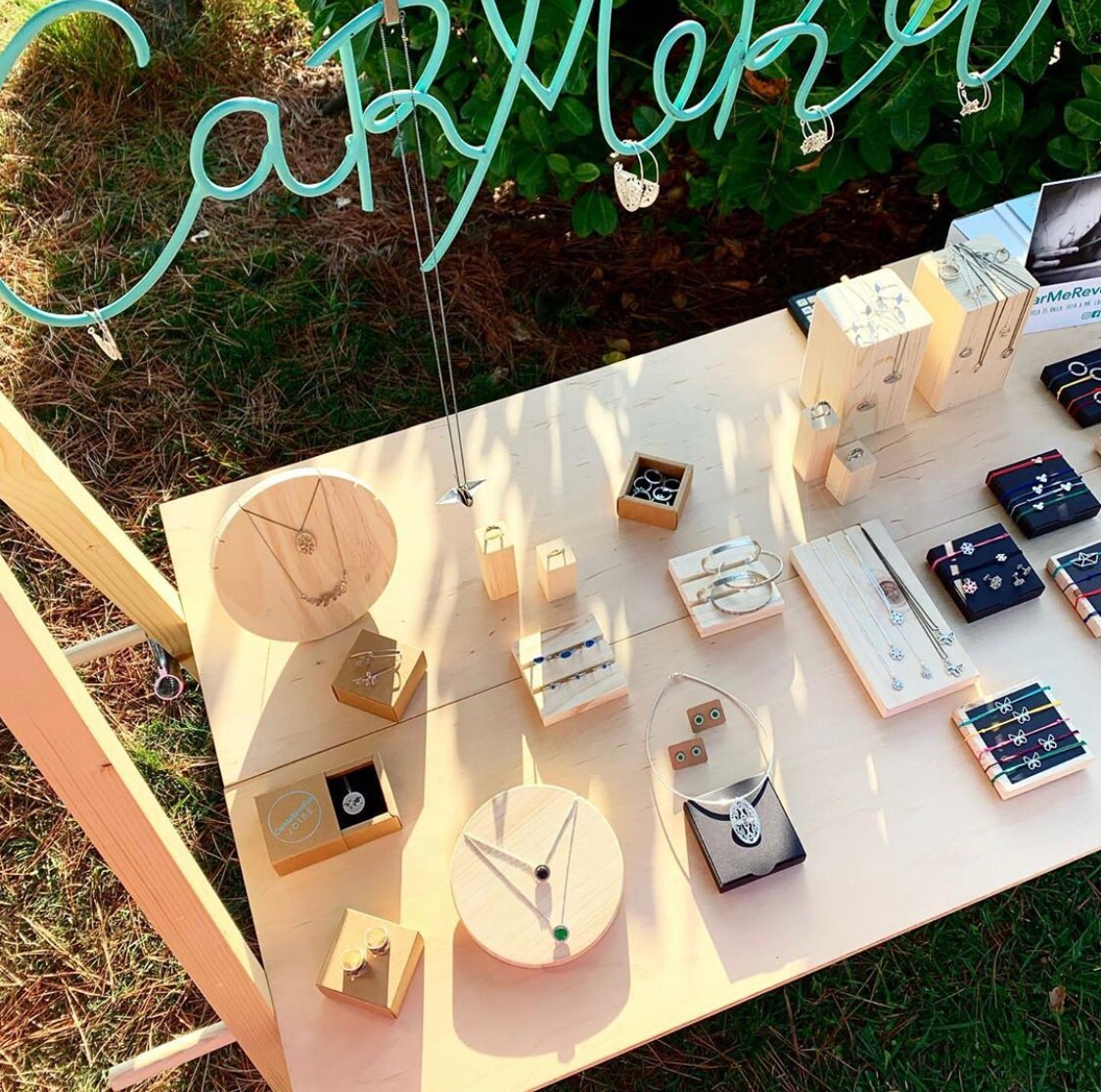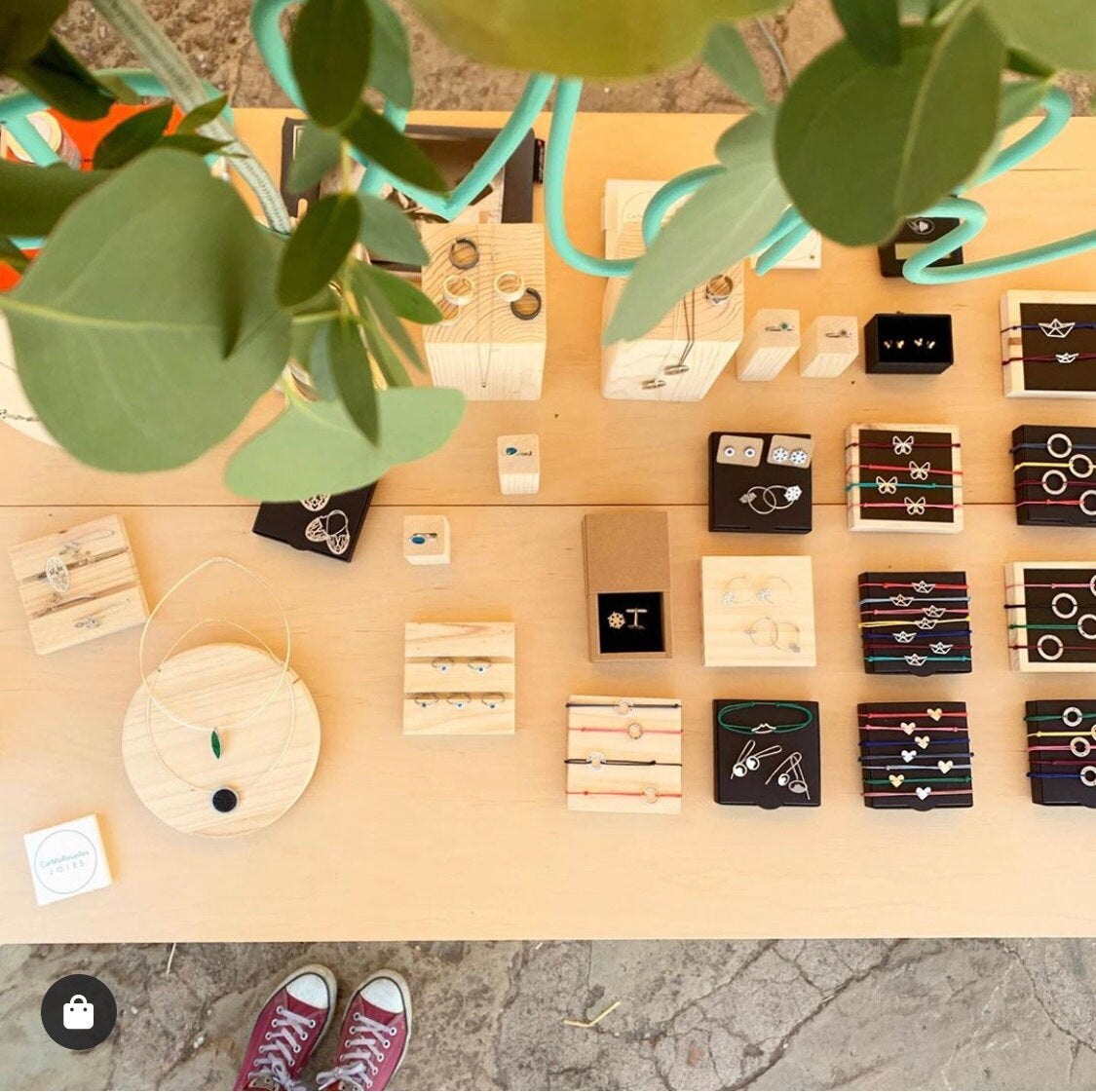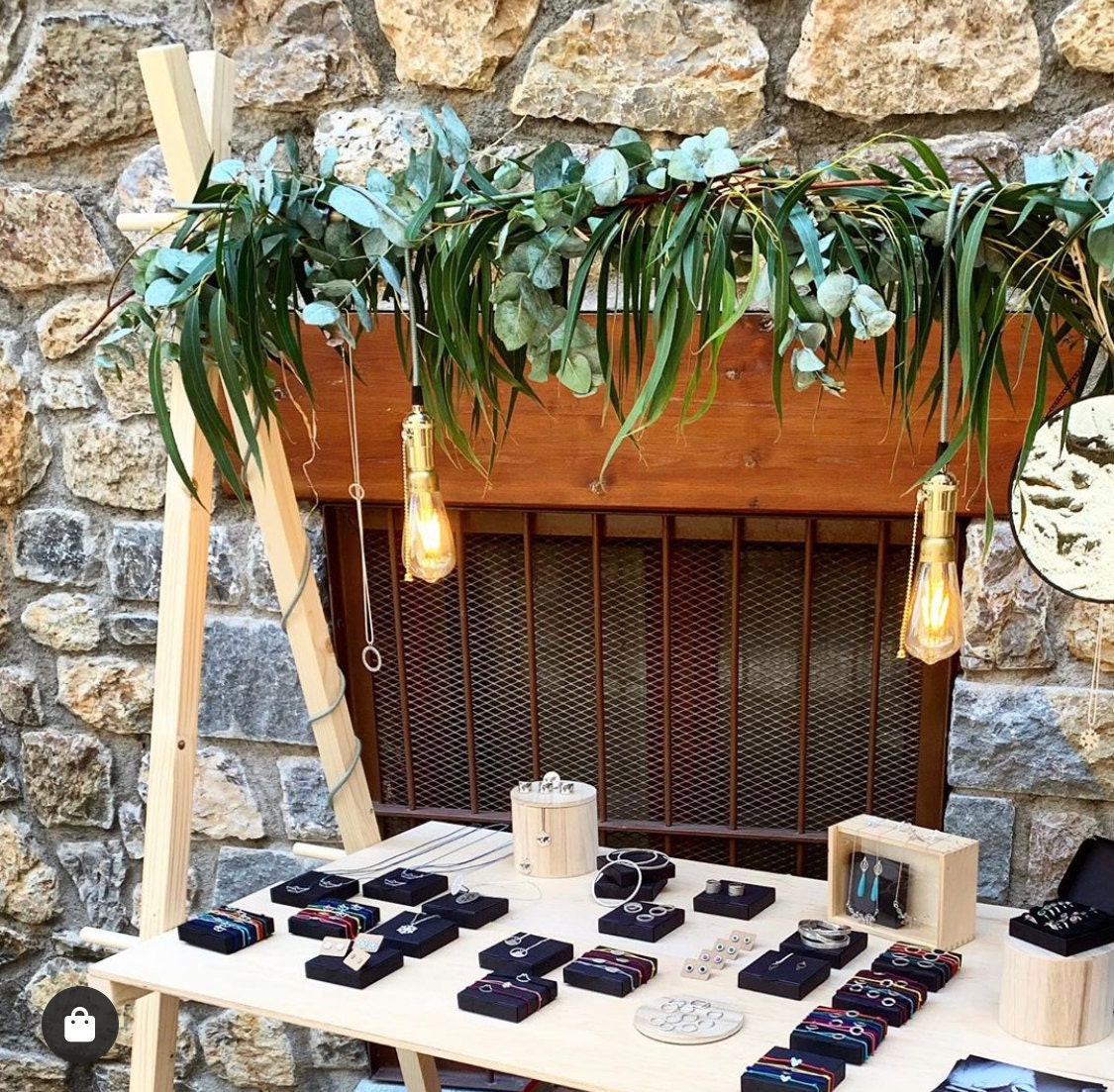 Photos and products by Car MeRevelles ♥ JOIES
Below you will find our selection of display stands for jewelry producing brands.