SKU:VS-03-NT
Regular price
€650,00 EUR
Regular price
Sale price
€650,00 EUR
Unit price
per
Sale
Sold out
Description
This portable shelving unit is perfect for craft fairs, showrooms, shops, and studios.

It's made of wood and the best quality plywood. It's easy to carry and super fast to assemble without any tools.

We believe that your products are made with love. Products deserve proper display boosting your sales during fairs or in your store. This simple multifunctional unit will present beautifully without overwhelming your products.
Dimensions
Height: 213cm (83.85")
Width: 106cm (41.7")
Depth: 50cm (19.6")
Shelves width: 90cm (35.4")
4 shelves: 90x25cm (35.4"x9.8"), 90x32cm (35.4"x12.59"), 90x39cm (35.4"x15.3"), 90x46cm (35.4"x18.11")
Customized double-sided logo board: 90x30cm (35.4"x11.8")
Materials
Spruce wood
Poplar or birch plywood
Finish & Colors
Matte clear coat
Add-ons
2 durable black carry cases w/ logo in white color

Set of 4 personalized plates with hooks to hang on rails.
Personalization

After the purchase, our graphic designer will contact you by e-mail to determine the personalization for stands and carry cases and approve the mockups so that you can make sure how the ordered fixtures will look personalized for you.
If you like to see the mockup with your logo before you finalize your purchase, you can also send your artwork in vectors (.ai or .eps) first to hello@milimetry.com and we will prepare the mockup with your logo first.
Share
View full details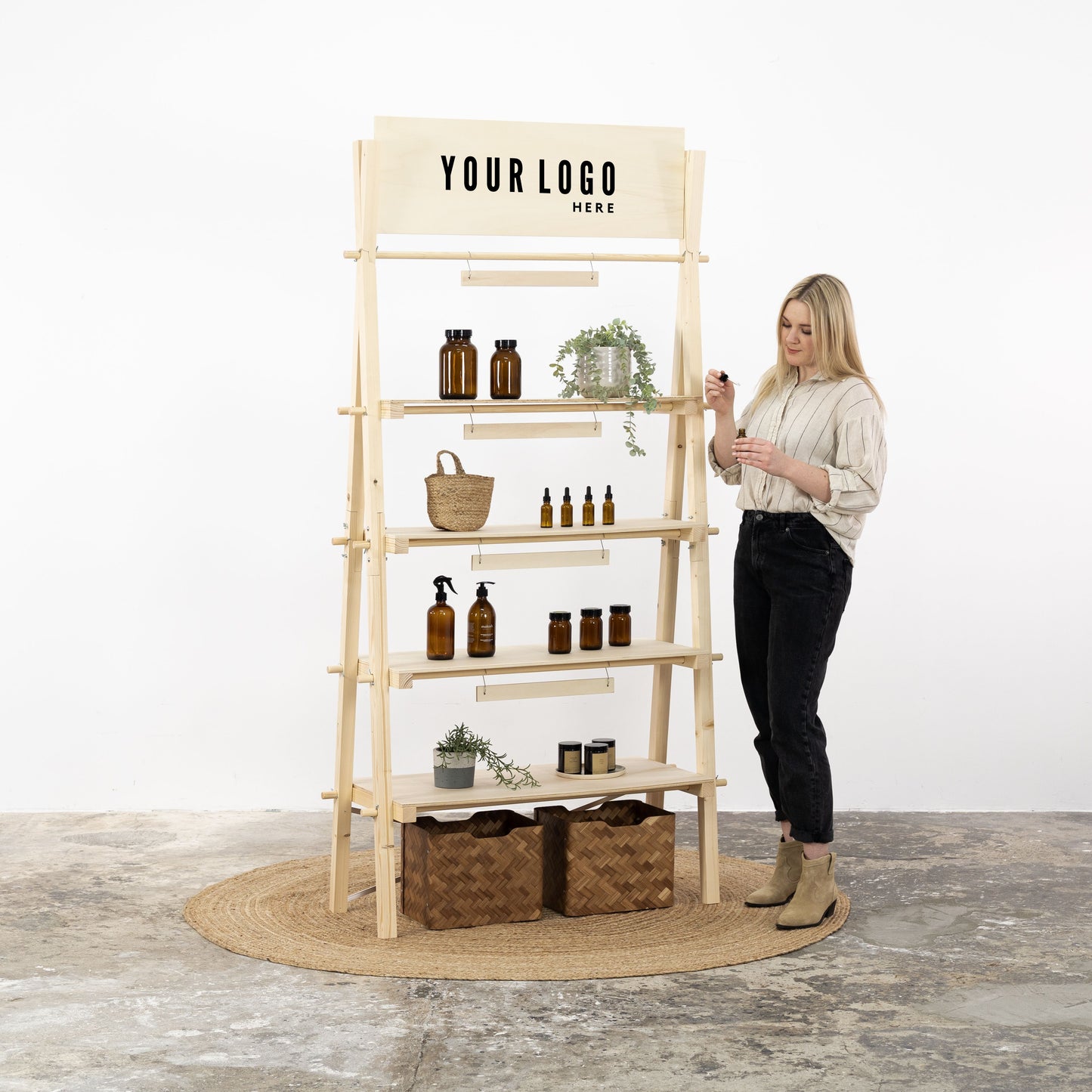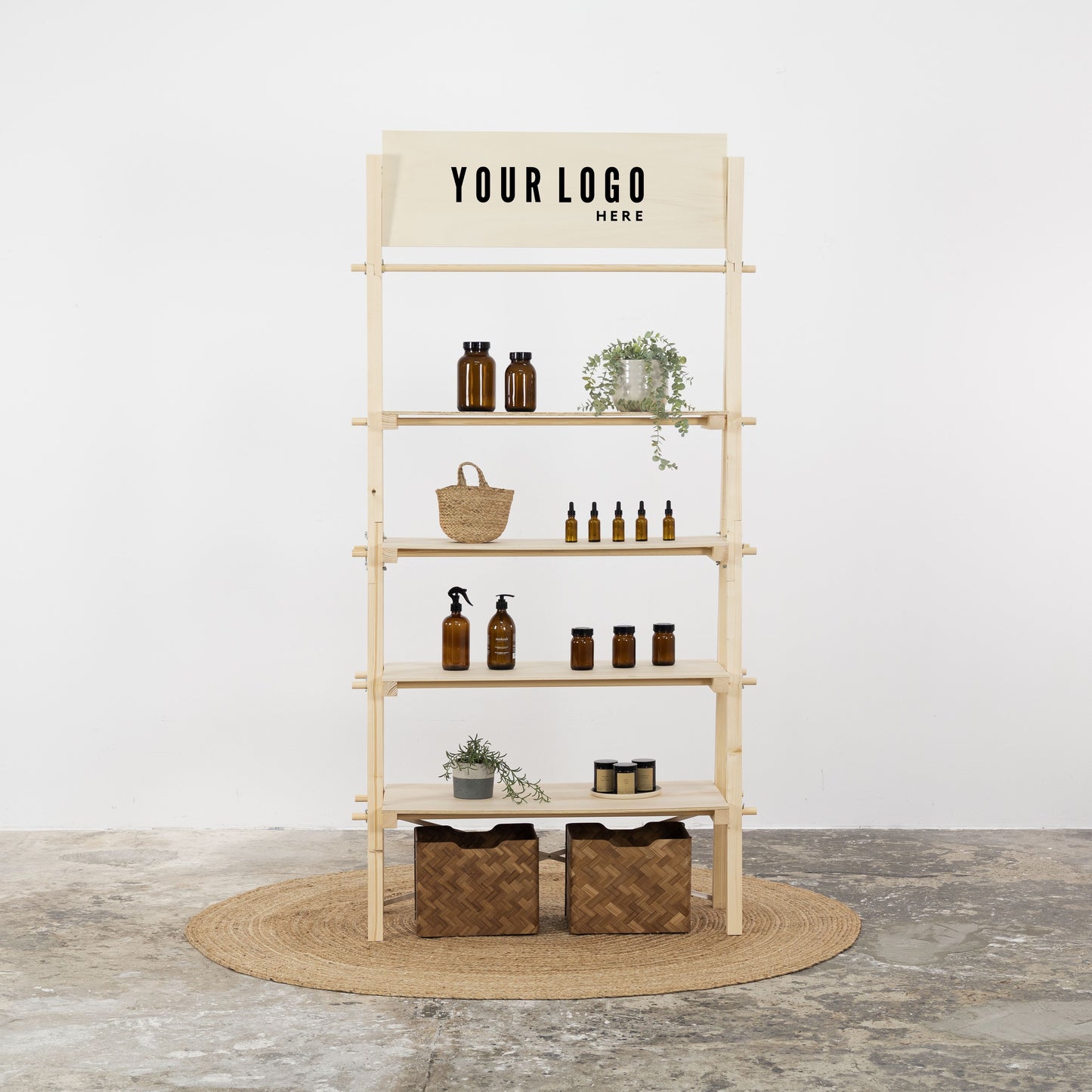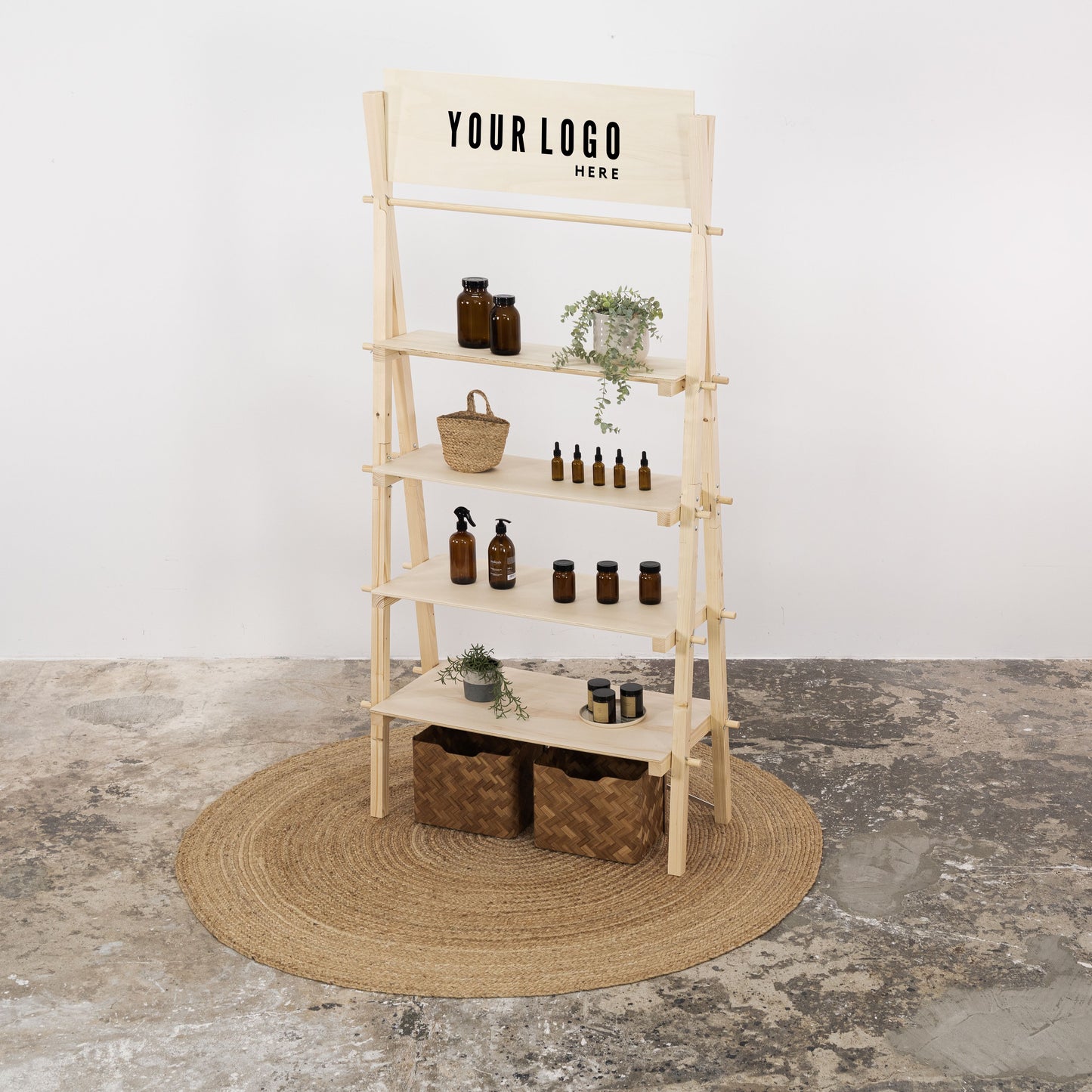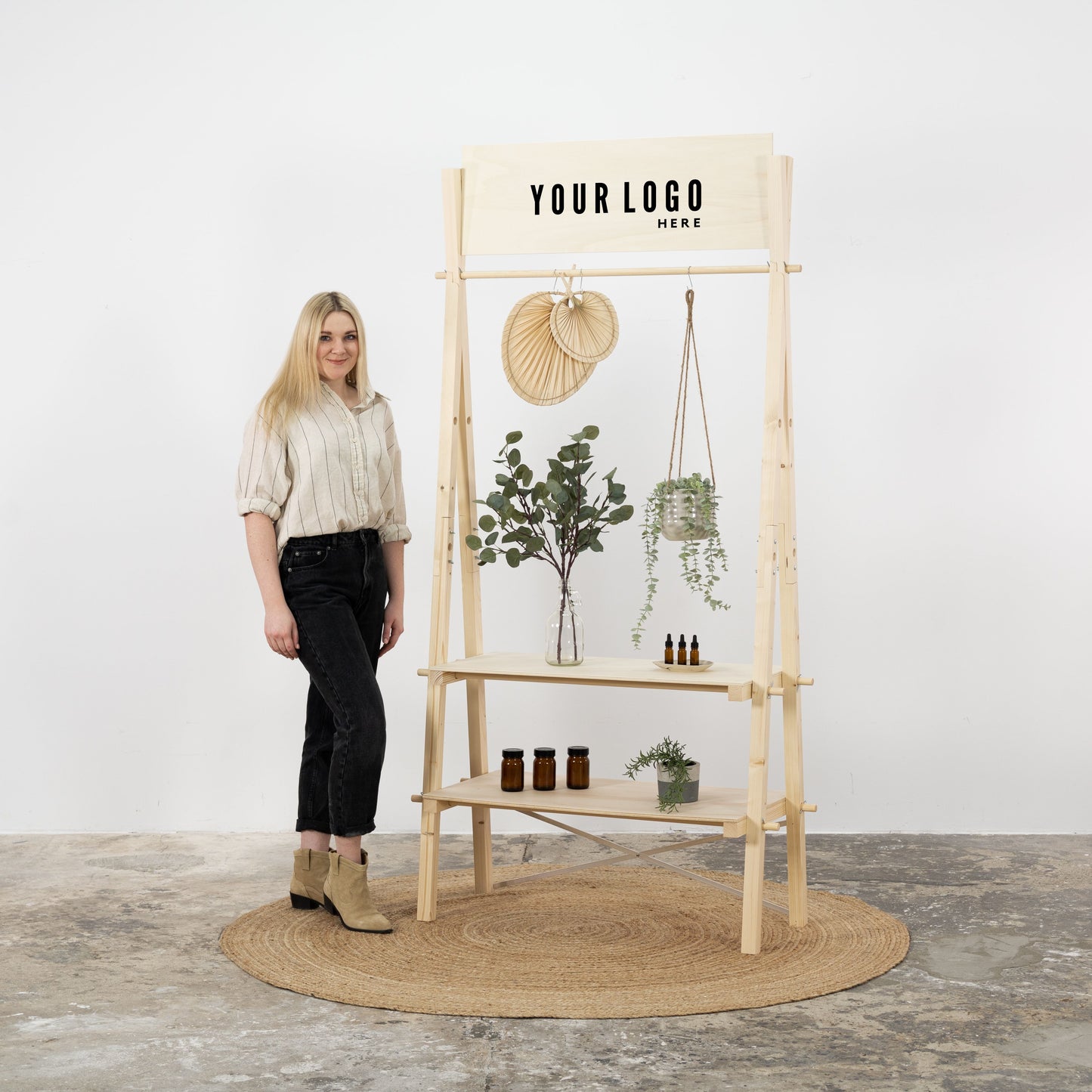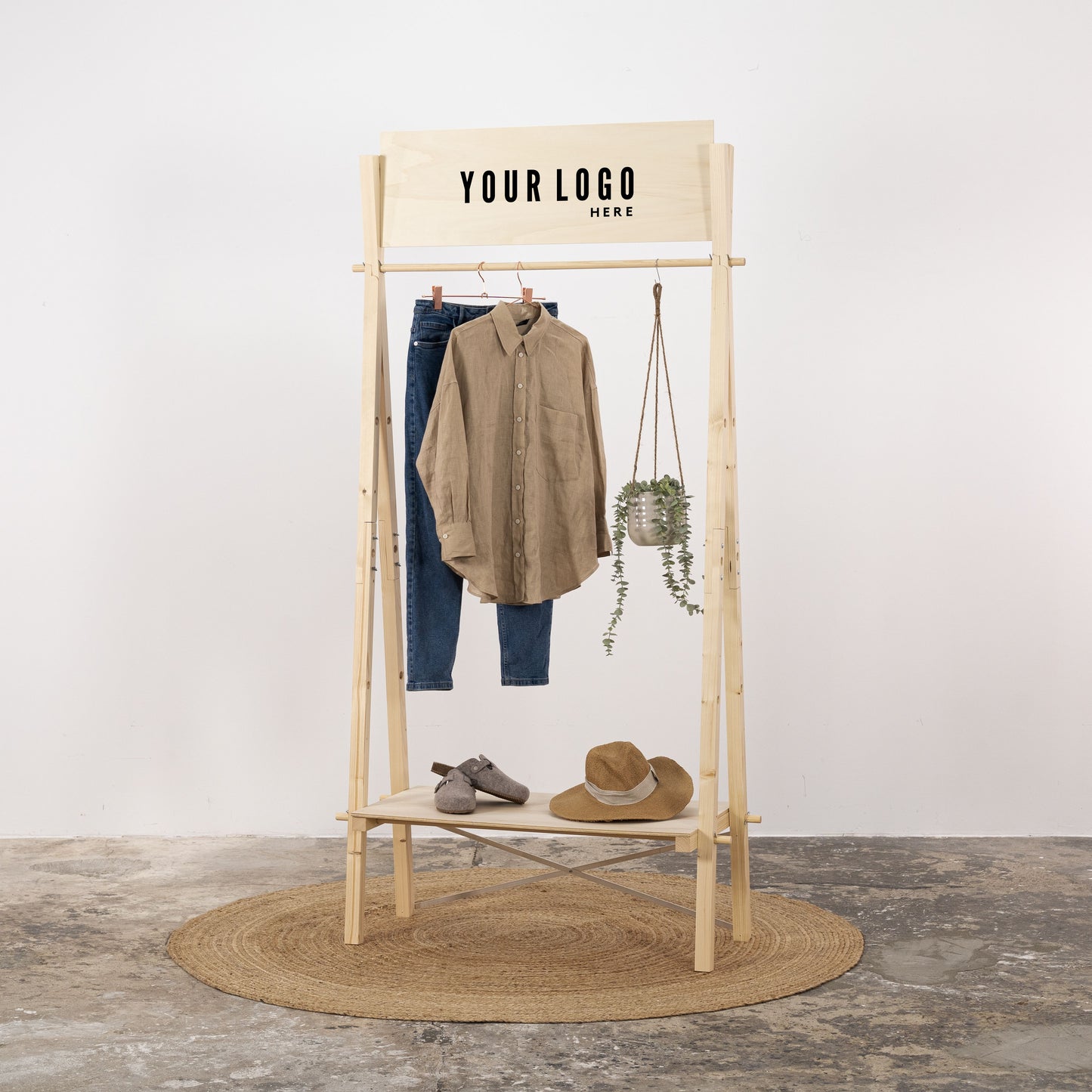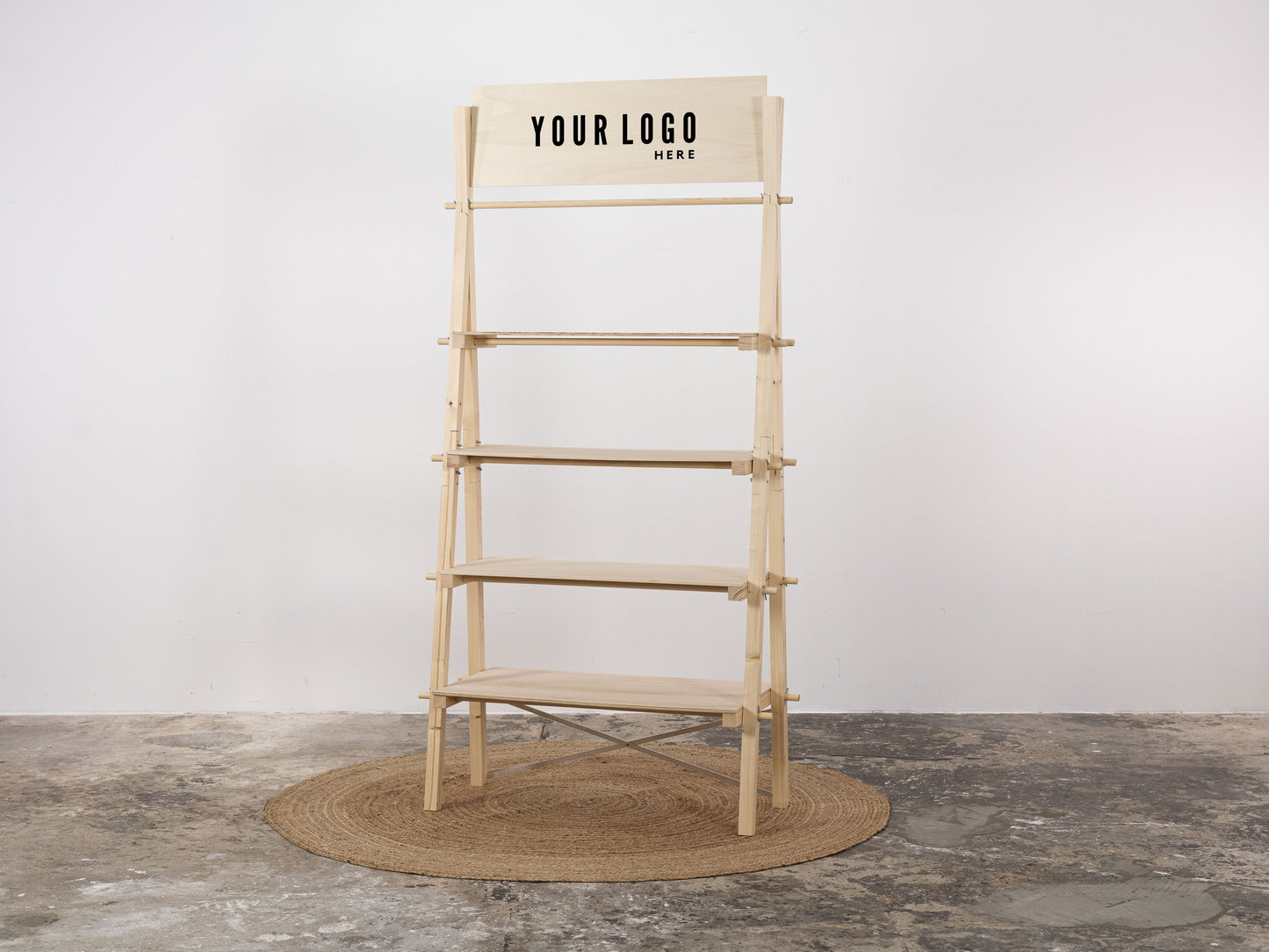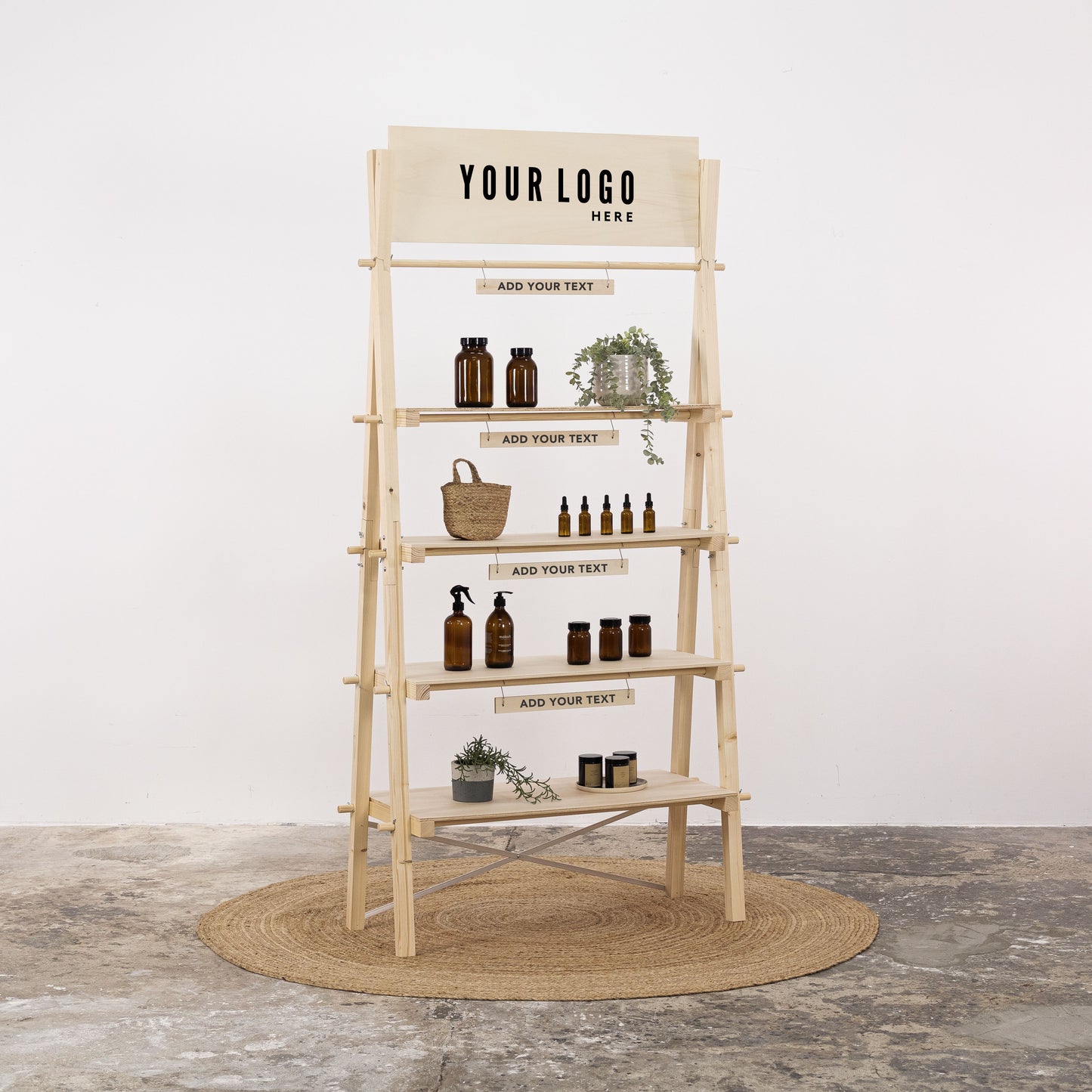 Product reviews from our Etsy shop
Absolutely incredible! The customer service and shipping was like no other. This was a huge purchase for my business and the own...

Read More

Absolutely incredible! The customer service and shipping was like no other. This was a huge purchase for my business and the owner made me feel so secure and happy that I made this choice with them! She kept me updated the entire time and sent preview photos before shipping. This set up is a game changer for my events. The setup does take a little bit of extra time but after a few times I am sure I'll get faster. Very user friendly and easy to set up. Make the purchase!!!! You won't regret it!

Hide

Posted on

This company deserves more then five stars. Amazing customer service, shipping and product. I was a little afraid because this...

Read More

This company deserves more then five stars. Amazing customer service, shipping and product. I was a little afraid because this company was on the other side of the world for me but is nothing to worry about!!! The company is extremely response, customer service is on point, shipping is super fast!!! and well packed and last I can be more in love with the quality of the product. Thank you for company's like this that still exists to provide incredible experience. Bravo to all the team!!!

Hide

Posted on

Very well built. Clean aesthetic, easy to put together and I love the addition of having my logo on top. Love that the bags also...

Read More

Very well built. Clean aesthetic, easy to put together and I love the addition of having my logo on top. Love that the bags also come with a logo. Also everything was packed carefully for shipping. Very happy with my purchase.

Hide

Posted on

The market season is just starting in Arizona and I was wanting to "up my game" and have a more formal, custom but easy to use d...

Read More

The market season is just starting in Arizona and I was wanting to "up my game" and have a more formal, custom but easy to use display. I bought this shelving unit, another unit and a table. Very high quality and easy to put together. I worthwhile investment! I haven't used them in a show yet but I did put them together at home. Super easy!

Hide

Posted on

Adore the design and so well crafted and built well. They were a joy to work with and responded quickly with our questions. I or...

Read More

Adore the design and so well crafted and built well. They were a joy to work with and responded quickly with our questions. I ordered their stands to vend my clothing at local pop up shops and markets and their displays exceeded my expectations. The racks & display is absolutely unique and beautiful, and had tons of complements at my first market!

Hide

Posted on

What a gorgeous display stand! It is so well made, from the craftsmanship to my logo on the display board to the high quality of...

Read More

What a gorgeous display stand! It is so well made, from the craftsmanship to my logo on the display board to the high quality of the carry bags. This display is really going to help me stand out at markets. I really couldn't be more pleased!

Hide

Posted on

I had a great experience getting displays from Milimetry. The shelving units are very thoughtfully constructed and packaged with...

Read More

I had a great experience getting displays from Milimetry. The shelving units are very thoughtfully constructed and packaged with care. They worked on my order quickly and were very responsive to my questions. Can't wait to use them for an upcoming event. Thank you!

Hide

Posted on

couldn't have been better! thank you so much

couldn't have been better! thank you so much

Hide

Posted on

couldn't have been better! thank you so much

couldn't have been better! thank you so much

Hide

Posted on

These shelves are so well designed and the quality is incredible. I was also impressed by how quickly they shipped to the US fr...

Read More

These shelves are so well designed and the quality is incredible. I was also impressed by how quickly they shipped to the US from Poland. Thanks for providing me with awesome display pieces that will make my products look great!

Hide

Posted on

GORGEOUS! Incredibly well made and easy to put together and take apart once you get the hang of it! I love the carrying cases an...

Read More

GORGEOUS! Incredibly well made and easy to put together and take apart once you get the hang of it! I love the carrying cases and the custom wood sign at the top. My first market of the season is October 1st and I cannot wait to use my new shelves! Thank you so much :)

Hide

Posted on

WOW!!! I am so incredibly happy with the shelf! It was delivered so fast! This shelf is well made easy to put together and is ov...

Read More

WOW!!! I am so incredibly happy with the shelf! It was delivered so fast! This shelf is well made easy to put together and is over all one of the most well thought out and designed shelves for markets and pop-up events that I've ever seen! I can't wait to buy another! I give the shop, shop owner and product ten stars! I could not be more pleased! Thank you!

Hide

Posted on