SKU:VAB-02-NT
Regular price
Sale price
€95,00 EUR
Unit price
per
Sale
Sold out
Earring card holder is perfect to display a wide range of jewelry in your shop or during events.
Foldable stand, easy to carry. Perfect to use on our display counter or display tables available on the other listings.
Dimensions
57x30cm (22.4"x11.8")
The distance between the shelves is 12,5 cm (4.9")
The shelf depth is 2 cm (0.8")
The whole stand is about 30 cm deep (11.8")
Finish & Colors
Poplar or birch plywood is finished with a clear matte varnish.
Share
View full details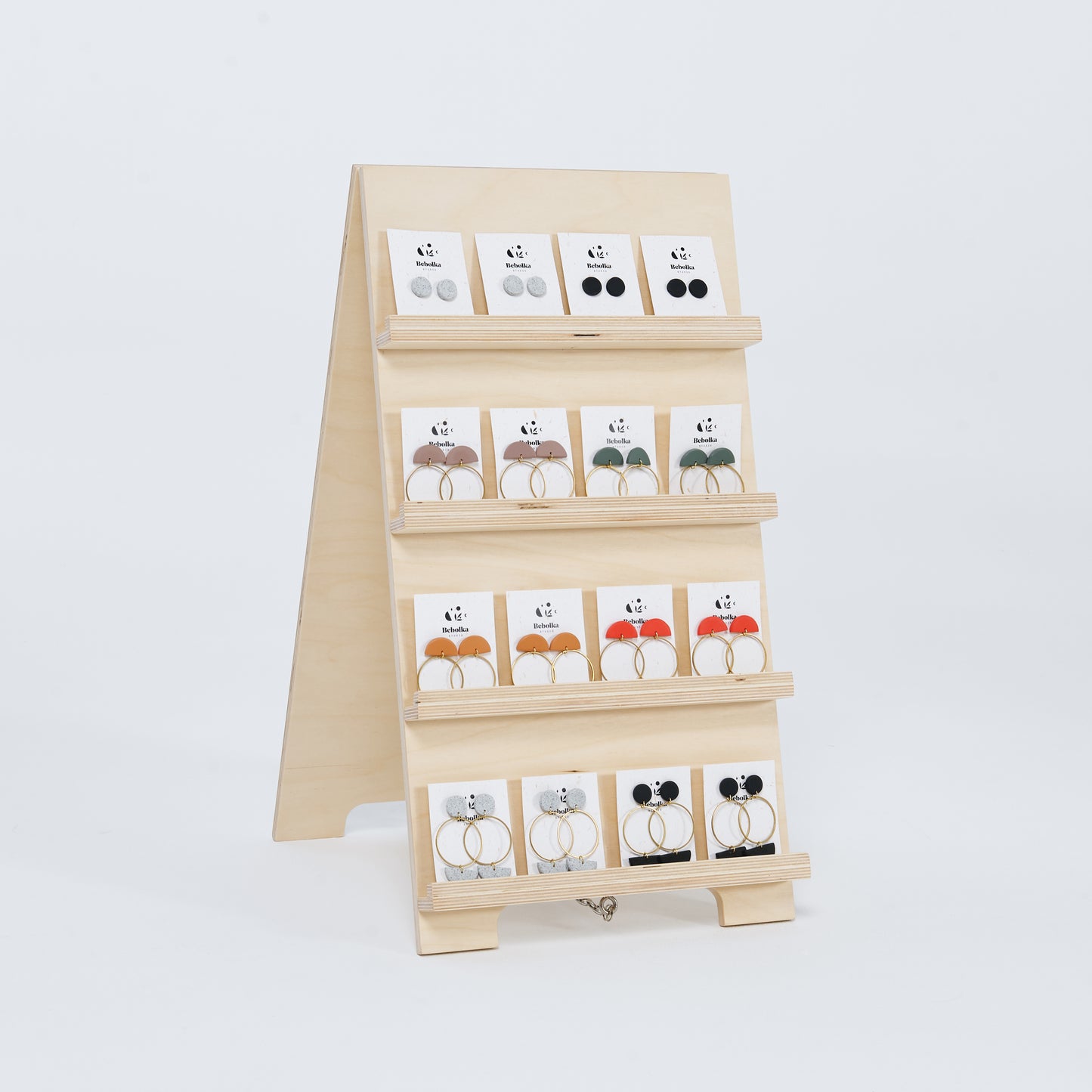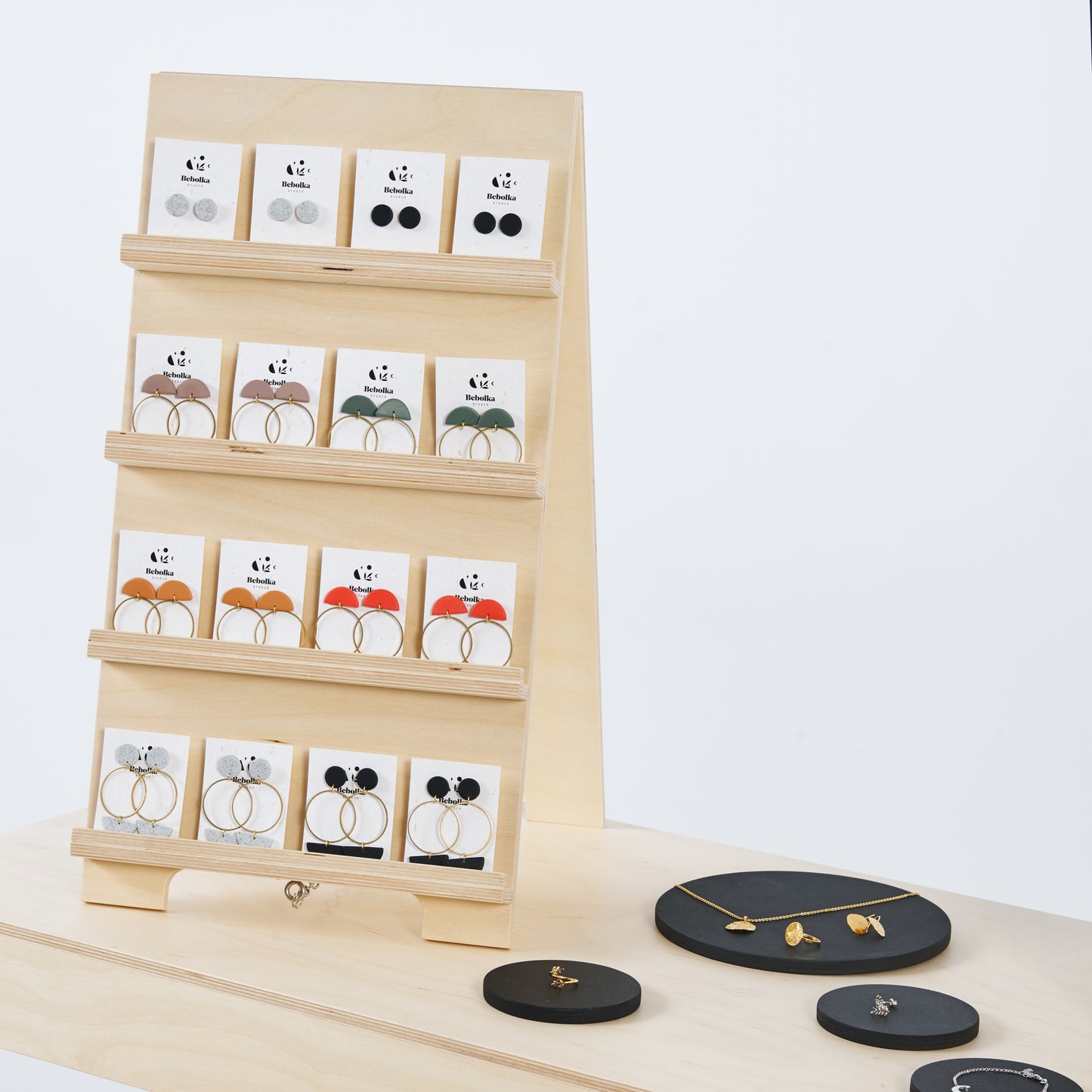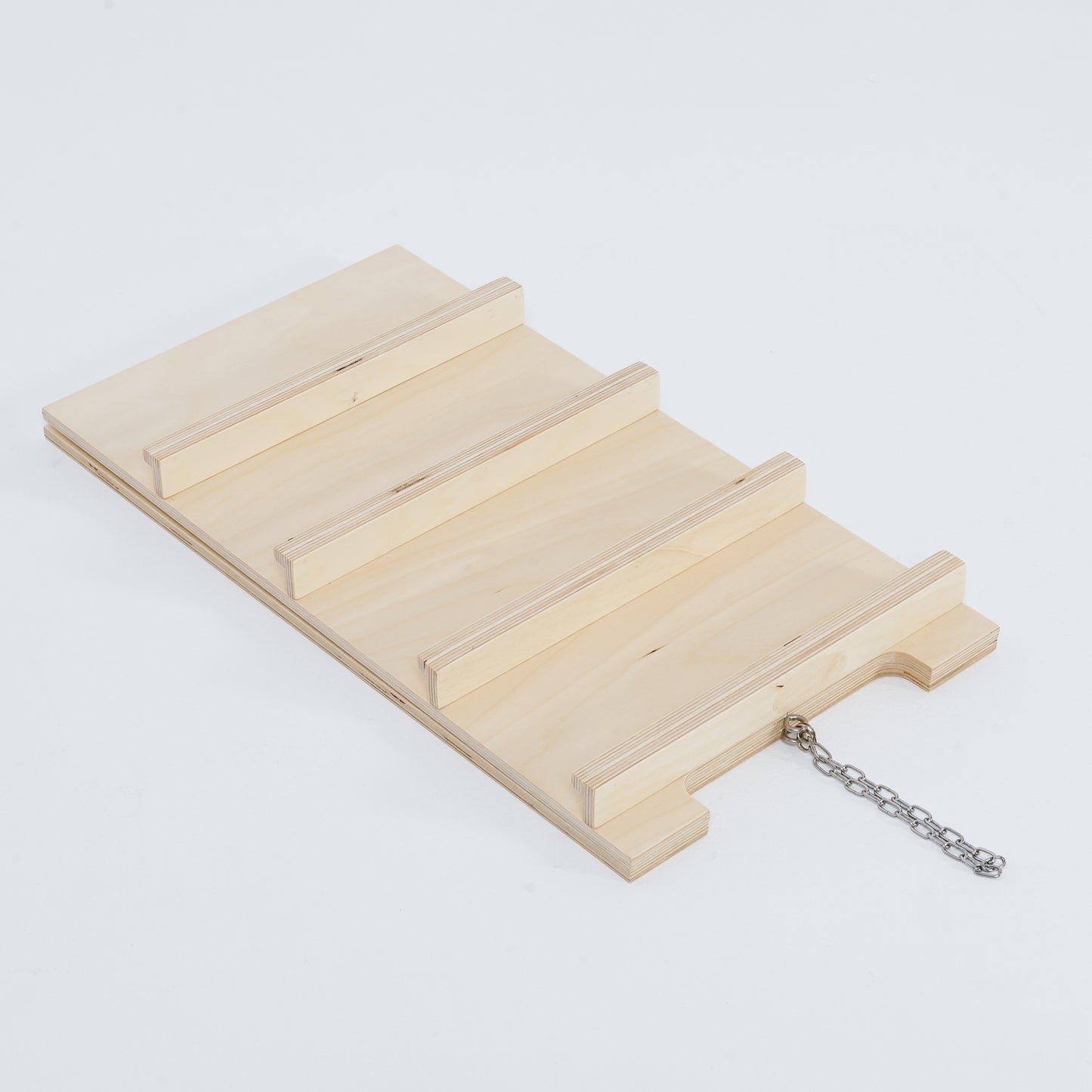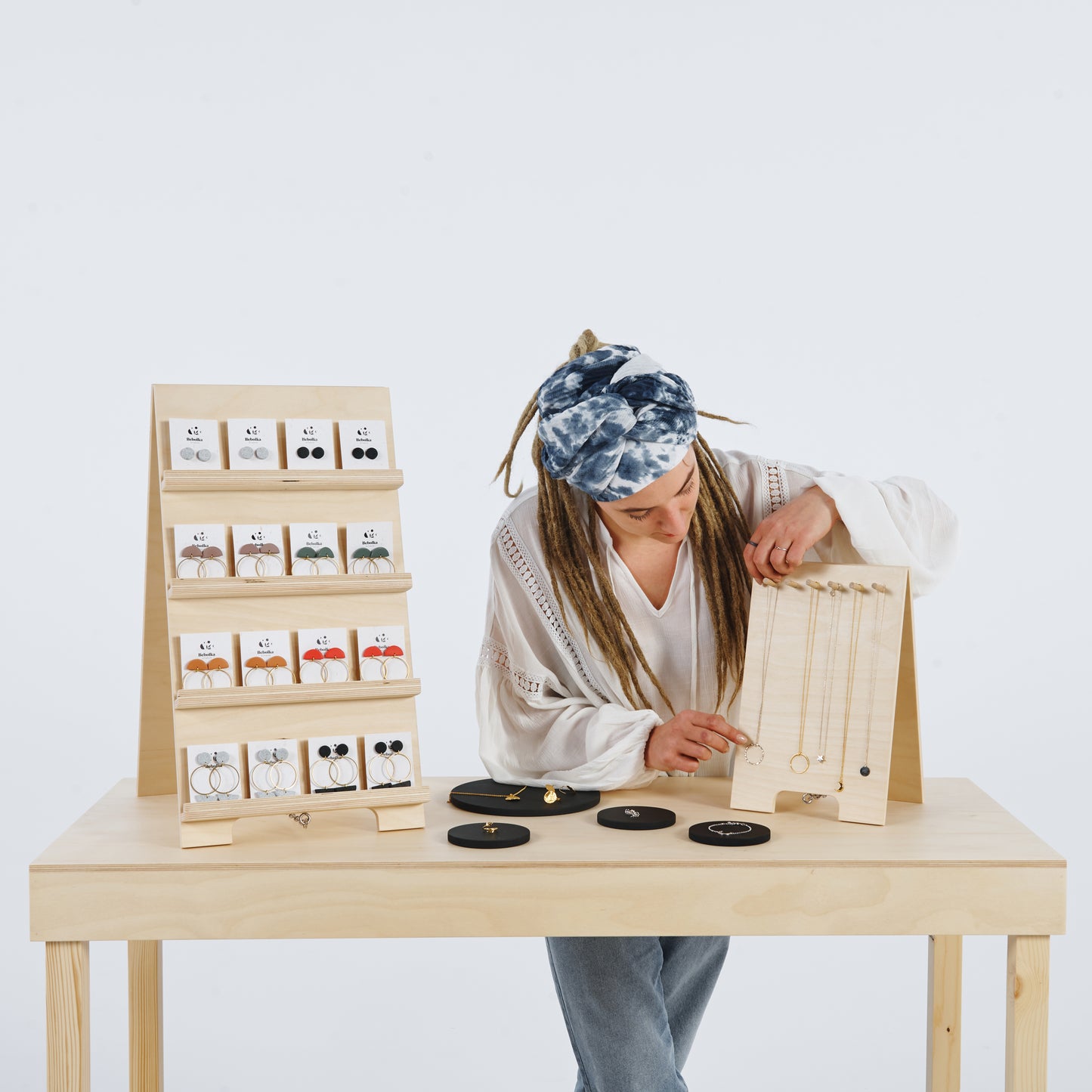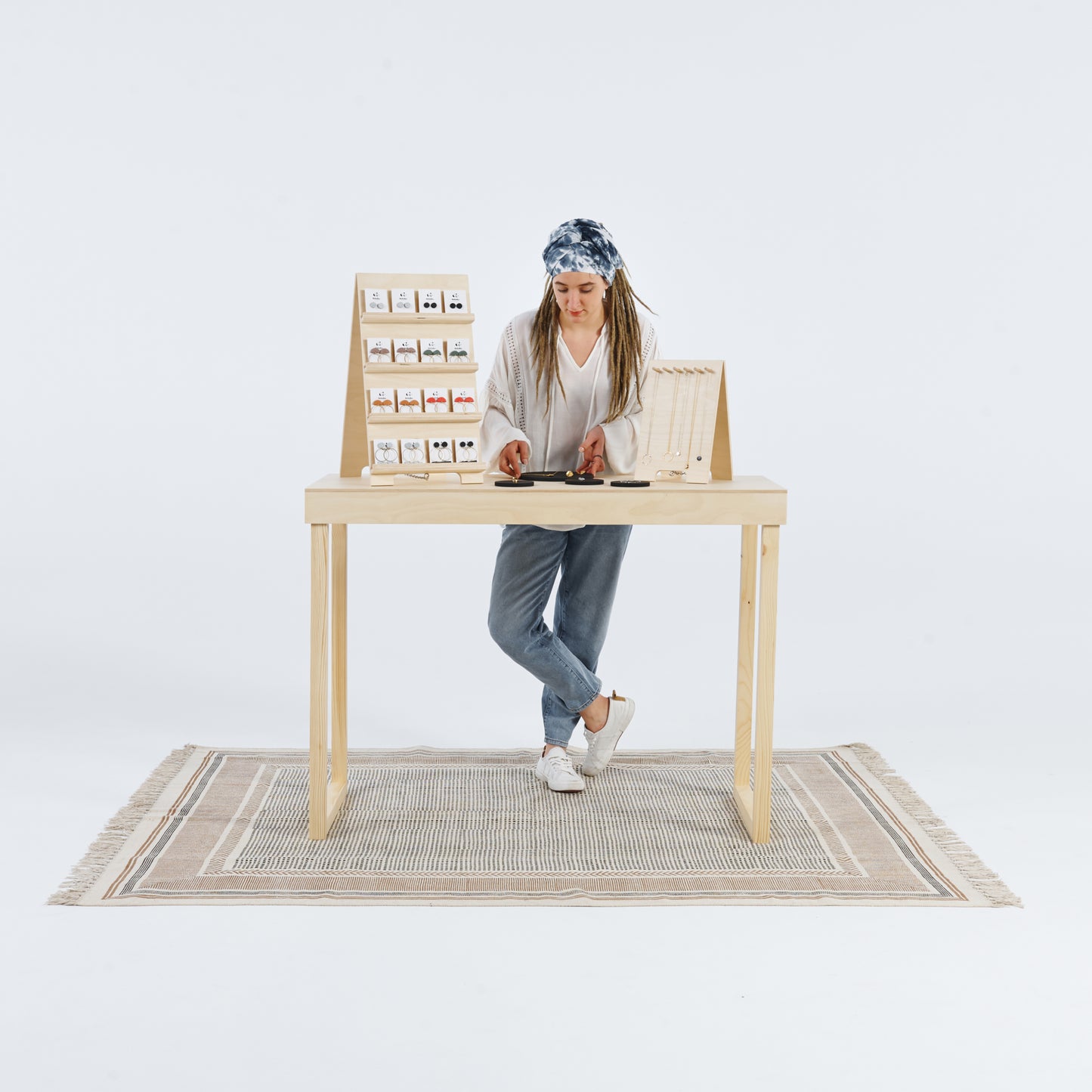 Product reviews from our Etsy shop
The shop owners were great to work with and super responsive. The display pieces were beautifully made and look great in my spac...

Read More

The shop owners were great to work with and super responsive. The display pieces were beautifully made and look great in my space. You can tell these shop owners know what they are doing. The items were expertly packed for shipping. My husband, who was a contractor and high-end carpenter, could not stop raving about the quality of the items and how great they were prepared for shipping. He was blown away. I have their business card (which is amazing btw and I want one for my biz) on my display and I have seen numerous people look them up already. 10/10 would recommend.

Hide

Posted on

Such a nice touch for my stand at the Christmas Market and more! I had 3 very different locations this winter for my goods, and...

Read More

Such a nice touch for my stand at the Christmas Market and more! I had 3 very different locations this winter for my goods, and it was so easy to use my products from Milimetry in all 3 of them! They're perfect. I had holders I made myself before, but those are definitely on another level. Exactly as shown in the pictures, super sturdy and smooth. Came very well-packed. Thank you!

Hide

Posted on

Magda and her team put together a selection of beautiful pieces for our businesses first pop-up shop. Customer service and shipp...

Read More

Magda and her team put together a selection of beautiful pieces for our businesses first pop-up shop. Customer service and shipping was quick and easy and much appreciated for the tight deadline we needed to meet and Magda is very accommodating and great to work with! The pieces are easy to assemble and have become statements in the shop. We are constantly getting compliments and inquiries as to where they came from as they are truly unique. We hope to purchase more of Milimetry's pieces for our next pop-up shop to complete the look. Would highly recommend!!

Hide

Posted on

Seriously amazing. The wood is heavy/substantial as well which is nice for markets. This is built sturdy and looks stellar. Than...

Read More

Seriously amazing. The wood is heavy/substantial as well which is nice for markets. This is built sturdy and looks stellar. Thank you!

Hide

Posted on

Very good quality of the wood and manufacture! Carefully packed! And best communication/ customer service. Super recommended!

Very good quality of the wood and manufacture! Carefully packed! And best communication/ customer service. Super recommended!

Hide

Posted on

These are amazing! Quality and functionality are superb and they're pretty too.

These are amazing! Quality and functionality are superb and they're pretty too.

Hide

Posted on

Superb quality and clean finish, just gorgeous!

Superb quality and clean finish, just gorgeous!

Hide

Posted on

It is my second time ordering from Milimetry, great customer service and craftsmanship.

It is my second time ordering from Milimetry, great customer service and craftsmanship.

Hide

Posted on

Great quality. Great price. Awesome style. Wonderful customer service! I also purchased the booth and love it!!!!

Great quality. Great price. Awesome style. Wonderful customer service! I also purchased the booth and love it!!!!

Hide

Posted on

I haven't had a market yet to use these, but they are super heavy duty. I won't be worried about them blowing over in the Oklaho...

Read More

I haven't had a market yet to use these, but they are super heavy duty. I won't be worried about them blowing over in the Oklahoma wind.

Hide

Posted on

My earring stand arrived super fast and in perfect condition. And most importantly - it's brilliant. Thank you.

My earring stand arrived super fast and in perfect condition. And most importantly - it's brilliant. Thank you.

Hide

Posted on